DXBase software
Here is a sample application to pass data to DXBase software (http://www.dxbase.com/).
Download Visual Basic source code and EXE file: Mix2DxBase6.zip.
(All Visual Basic EXE files require Visual Basic 6 DLLs to be present in your system.)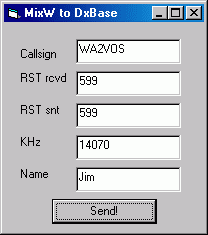 Click Send! button to send data to DXBase.
Or, create keyboard macro (for example, for F2 key):
Macro: F2
Label: Save
Text: <QSOCMDDDE:WRITE><QSOCMDDDE:>
Then use F2 to get the same result.
CQ LOG software

CQ Log is a powerful logging program from RA3DCT (http://www.cqlog.com). The setup procedure is quite easy: just select MixW from the drop-down menu in Log Setup dialog: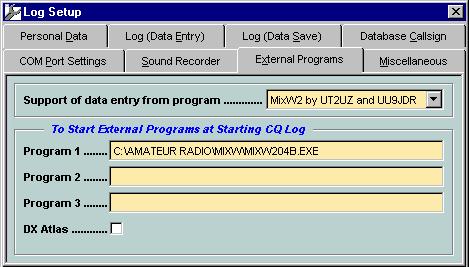 CQ Log immediately gets all the data entered into the log window in MixW. It also handles Save and Remove buttons: